KRUPA s.r.o. is a leading player in distribution of printing supplies and equipment in Slovakian market. We offer exceptionally comprehensive variety of materials ranging from offset plates, printing blankets, inks and anti set-off powders to cleaning solutions, cover materials and stamping foils. We can provide regular deliveries directly to our customers using our fleet of lorries and vans or accommodate orders on ad-hoc bases where customers can collect from our warehouse or we can despatch using a range of courier services. With over 20 years of experience, we offer market leading customer service and unbeatable technical support.



Printing Blankets
KRUPA s.r.o. is an exclusive distributor for ContiTech in Slovakia. As a leading manufacturer of Printing blankets and printing plates worldwide, ContiTech develops and produces compressible precision printing blankets of the CONTI-AIR and PHOENIX Xtra BLANKETS brands. We also provide CONTI Laserline flex printing plates for direct engraving. Cutting and barring of printing blankets is done professionally in our workshop.
CTP and Printing Plates
KRUPA s.r.o. offers high quality Processes, Lo-Chem and Traditional CTP Plates by FUJIFILM.
Offset Inks
Our company has been collaborating with one of the biggest manufacturers of printing inks and varnishes EPPLE DRUCKFARBEN AG. EPPLE represents permanent development and highest quality standards since 1889. As leading manufacturer of offset printing inks EPPLE produces colour systems which are ahead of their time. EPPLE products open up undreamed-of possibilities for the packaging print. With the conventional inks of the product lines BoFood, Carefood and BoPack as well as with the migration reduced UV inks EPPLE offers a wide range of trendsetting and legally sustainable colour systems for food packaging. EPPLE Druckfarben provides the perfect solution for the outside and inside printing of packaging. In compliance with all food regulatory specifications EPPLE guarantees a maximum of safety for printers and consumers. EPPLE is your reliable partner for the packaging print.
Cover Materials
KRUPA s.r.o. has been an exclusive distributor for BN International since 1993. This long term relationship has given us a great know-how and experience allowing us to offer unparalleled support to our customers in terms of navigating through the immense choice of cover materials.

Cleaning Solutions
Our company offers a wide range of cleaning products for manual or automatic washing of offset blankets and printing plates.
For automatic blanket and roller wash systems on Heidelberg and Roland we offer FOGRA certified GOLD WASH
For manual washing of offset blankets we offer: T200, K60, GS cleaner and DC 111 from german manufacturer DRUCK CHEMIE
For more aggressive manual washing of offset blankets or other parts of printing machines, we offer SUPERCLEANER and REVITAL, which despite their effectiveness don't have any negative effects on the printing layer of printing plates.
For washing of printing plates, we offer K 2000 and S range of cleaners.
Our cleaning range also includes many more cleaning solutions, such as film cleaners, silicon, antistatic and anti-drying sprays.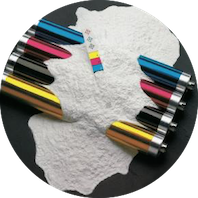 Anti Set-Off Powders
Our company is a exclusive distributor of German manufacturer of anti set-off powders KSL. In regular sheet fed offset printing the printing ink is not dried completely in the delivery, this of course involves the danger of ink set-off, therefore a small space will be created by applying anti set-off powder to avoid ink set-off or blocking. At the same time the aeration will be assisted to fasten the aerobic and oxidative drying of the printing ink. In addition the slippage of the sheets will be effected positively and an even stack formation will be made easier. Only the use of high-quality anti set-off powder provides an even space between the sheets as well as an economical consumption of powder with lowest dust formation. An important quality characteristic of our anti set-off powder is a regular particle size distribution. Thus almost every single powder grain can be used. The reduction of very fine particles decreases the unnecessary and not wanted dust loading in the delivery and in the printing room. As to that anti set-off powder from KSL fulfil the requirements of the BG!
Varnishing Plates
KRUPA s.r.o. is an exclusive distributor of a well established Italian manufacturer of Varnishing plates KRUSE. Their product range varies from water base and UV Rubber plates and Polyurethane plates to Compressible underplates of top quality.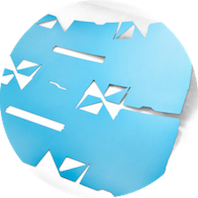 Stamping Foils
Our company offers an unparalleled range of Stamping foils from variety of manufacturers for printing on all types of materials. We are one of very few companies on the Slovakian market producing magnesium Dies for hot foil printing with many years of experience using this technology. Years and years of experience with hot foil printing and magnesium dies production allows us to provide our customers with the best service and product for their needs.
Cleaning Clothes
Our company offers wide range of cleaning cloths from hand cleaning applications to automatic printing blanket and cylinder cleaning systems on modern printing machines such as Heidelberg or Roland. Our customers can choose from high quality Sontara PrintMaster cloth from american manufacturer DuPond or slightly more affordable cleaning cloth from an established manufacturer K-Cloth. Our whole range of cleaning cloths comes with the german FOGRA certification.
Isopropyl Alcohol
Our company has been exclusively selling SHELL 99.9% Izopropyl Alkohol since 1995. Shell Isopropyl Alcohol (IPA) GMP is a specialist grade within their alcohols range of oxygenated chemical solvents. Being produced according to Good Manufacturing Practices (GMP) for pharmaceutical excipients, it has very high purity and is used in a wide range of applications. Isopropyl alcohol is is a clear, colourless liquid with a mild odour. It is a versatile and effective solvent being miscible in water, alcohols and other solvents, and will dissolve many types of organic substances including cellulose, oils, gums as well as natural resins. Our storage facilities allow us to distribute this product in various sizes and quantities from small containers to 200l, 600l & 1000 litres canisters.